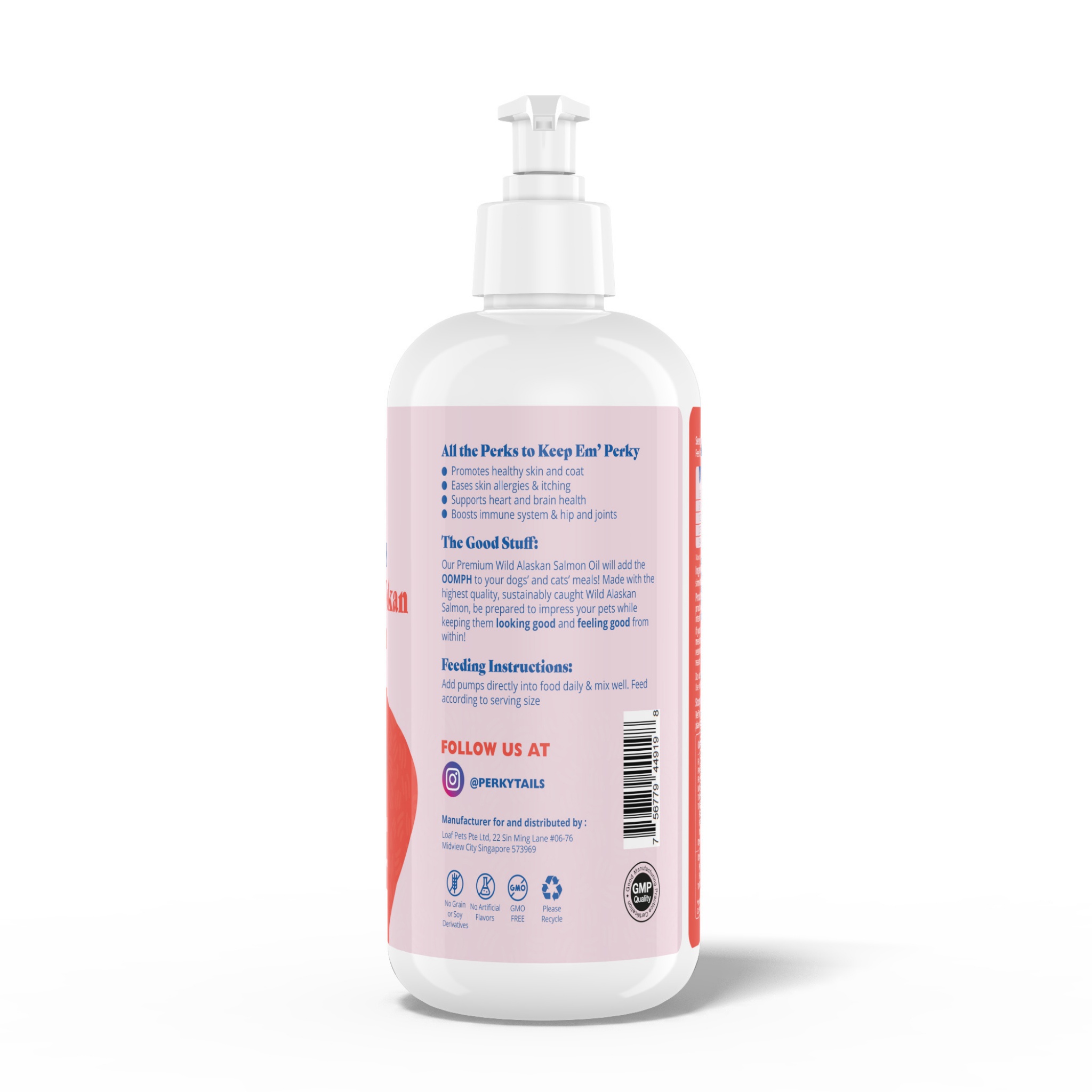 Perkytails's Pure Wild Alaskan Salmon Oil For Dogs and Cats
Sale price Price $20.51 Regular price Unit price / per
8oz / 16oz
Perkytails Pure Wild Alaskan Salmon Oil is a great supplement for both dogs and cats!
Rich in Omega-3, Wild Alaskan Salmon Oil helps promote silky & healthy coat and aids in allergy and itch relief. It's known as the all rounder supplement as it also boosts join support and heart health! 
Perkytails Wild Alaskan Salmon Oil is made in the USA and is 100% all natural. Add the recommended pumps into your dog and cat's diet and watch them transform. Through boosting your pet's immune system from within, watch your dog and cat shine from within! 
How it makes your pup & cat happy?
Perkytails's Wild Alaskan Salmon is made with simple ingredients with no added artificial preservative. It's wheat free, grain free, corn free & soy free. Made with sustainably caught Wild Alaskan Salmon, our product is produced in the USA and in a GMP certified facility. 
Wild Caught Alaskan Salmon is rich in essential Omega-3 & Omega-6 fatty acids required in your dog and cat's diet. 

Best of all, it's so delicious it adds an additional OOMFP to their meal times! 
Goodies

No Nasties, Only the Good Stuff
Guaranteed Analysis
| | |
| --- | --- |
| Omega-3 per teaspoon | |
| EPA | 423MG |
| DHA | 465MG |
| Total Omega-3  | 1227MG |
​
More Info
Production 
Wild Caught Alaskan Salmon

Ingredients are source and made in USA
100% Natural

Feeding & Storage Instructions
This product is not intended to replace your dog and cat'ss diet but to supplement feeding only. Add recommended pumps into their dry or wet food daily
If your pet is currently taking any anther prescribed medications,
we recommend speaking with your veterinarian first to prevent the potential for adverse reactions.
Refrigerate after opening. Store product in cool and dry place. 
Expiry date 

Expiry date > at least  6 months  
Other Ingredients 
Wild Alaskan Salmon Oil and Mixed Tocopherol (0.1%)
We Cut The Crap But Never The Quality
 Pure Wild Alaskan Salmon Oil for Dogs and Cats to Help Your Pet Look and Feel Good from Within!

Ingredients such as Salmon, Salmon Oil and Flaxseeds are great for the Skin & Coat of your pet. These ingredients are added to supplement Omega-3 & Omega-6 fatty acids into your pet's diet. They not only help to keep your pet's coat shiny, it's great for pet's allergies. Find out more about the ingredients that are great for your pet! 
Know more
Skin'n Coat